This is a little late, but really want to keep you posted on my progress.  The JBIT MedPro is just so amazing!
I must say I haven't been wearing it as much this week.  It's not because I don't want.  It's because I had herniated disc surgery on my cervical spine. So I have been out of commission.  I will say though, I have been wearing it a little around the house.
One amazing thing I did notice while I was in the hospital was I actually was able to sit up in bed without any support.  So when the doctors wanted to hear my lungs.  They generally like to listen on your back. Well…I had to hold myself up when doing that….I actually sat up very easily and was able to hold myself up.  I would have to summize from that, that my core muscles are getting stronger.  this was so exciting for me.  just two weeks ago, I wouldn't have done that…I would have rolled onto my side.  There would have been no way I could hold myself up without holding on to something very tightly.  This is so exciting!!
I was getting to a point where I was seriously contemplating getting some kind of assisted walking device.  I have been reluctant to do so because I am not quite 40 yet and feel a walker will not do anything for my self esteem, which is already fragile enough as it is.
With the JBIT MedPro, although it can be seen it doesn't get as many looks.  I have actually been getting more offers of help from people.  It has been a more positive thing than negative.
With this, I feel more stable.  I have been starting to go down 1 or 2 steps without holding on to anything.  It is easier to go up stairs.  It just really has made such a difference in my life.  I just want everyone to know about it!
For all the women out there who worry about not being able to wear their cute peep toe sandals or a skirt….I have figured out how to put it on in both situations…..I was so excited….no one even noticed!!
I would love to get your feedback.  If you have any questions about my journey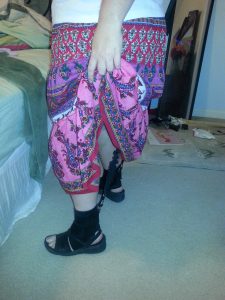 or this device.  I want everyone to know about it.  This is really starting to make a difference in my life.  I want it to make a difference in your life as well!!
Thanks for Reading!!
Going painfree with the Jbit Medpro Week 3